Our Future is vast...
Mankind has grown mighty and just on the shoulders of its ancestor's sins. Yet among the hoards of the enlightened, there are still those few men who succumb to the temptations of our past. While the application of Zefram Cochrane's brilliance has been put to use, pushing our species virtues ever more into the greatness of space; these few have hidden in the wake of expansion, escaping their guilt, misconduct and reputations not only across borders but across planets.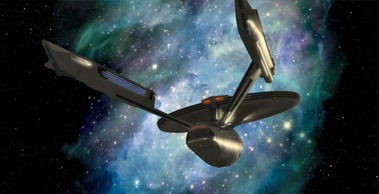 Welcome aboard the SS Mary Rose, a pastiche of a ship hailing from an era bygone, past checkered and history dubious. In all rights, she should have been moored in a museum, stripped of her warp core, drained of her chattels and propped onto a pole, a lifeless husk on display. Yet the SS Mary Rose has a tireless manner of slipping through the tight noose of fate, her history managing to have her plucked from her quietude and salvaged by a greedy merchant with an eye for earnings. Dragged from her stationary cradle adrift in the void, The SS Mary Rose is once more venturing the black. Now crewed by an itinerant band, whose motivations are questionable and approach is fly-by-night, the Mary Rose has been cast into the role of privateer vessel. Such craft find work only when wandering the outskirts of lawless space; their reputations, actions and mannerisms ensuring they remain unwelcome in the polite society of most UFP worlds.

This simulation is based on the dark side of Star Trek, people living on the very edges of the Federation. We focus on quality writing and not quantity like so many simulations out there allowing the story to grow in our own way, letting characters and our community develop.

We are based in the Task Force 72 of Obsidian Fleet.


SS Mary Rose is a 13+ website and game, no persons under 13 may register/join this site. This is our privacy policy in line with General Data Protection Regulation
Current Ship Mission